ElevateHQ vs. Oracle SPM: Exploring the Ultimate Alternative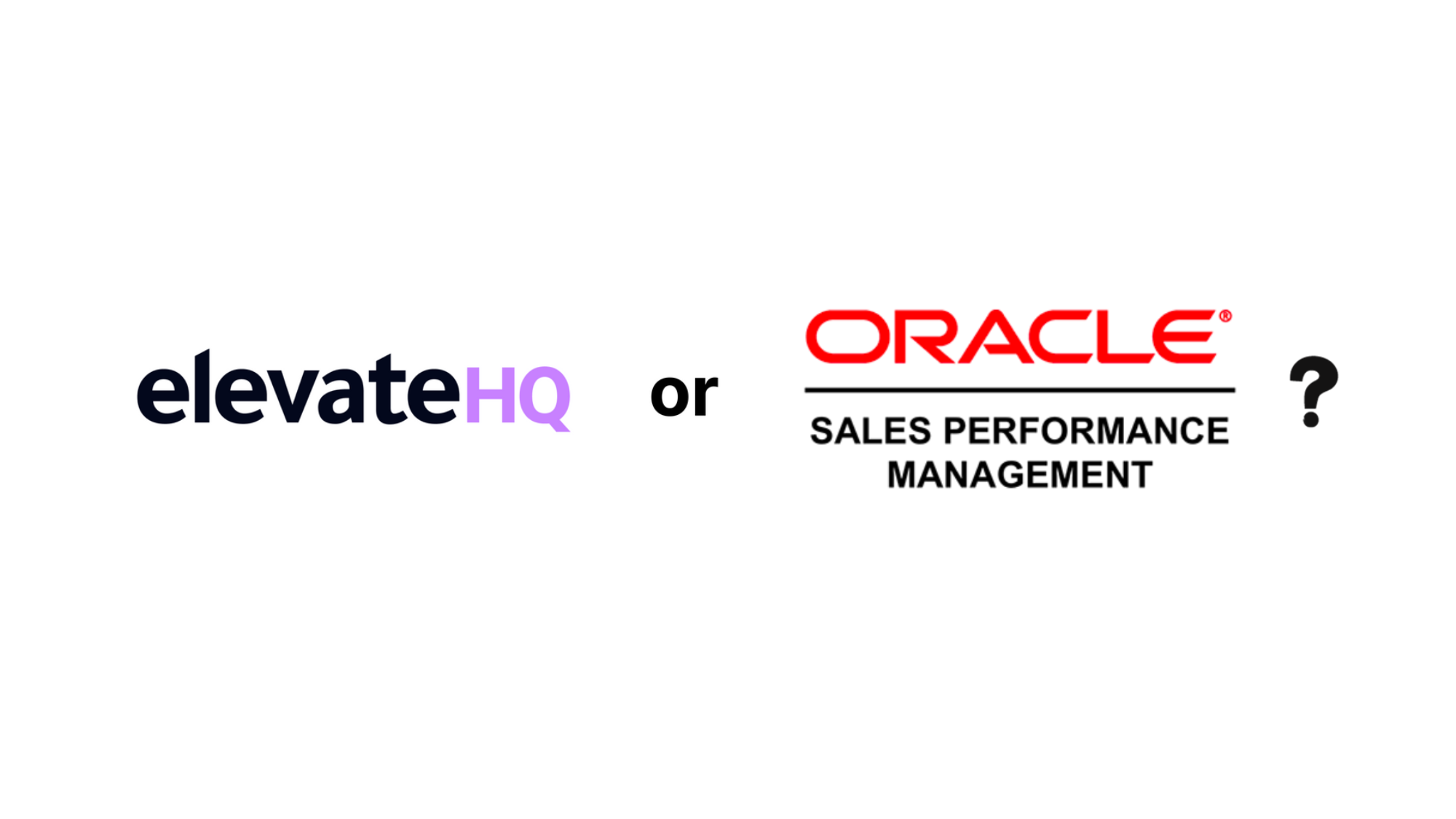 Executive Summary: This article provides a thorough comparison between ElevateHQ and Oracle SPM, both significant contenders in the sales compensation management domain. It assesses vital components such as:
Setup time
User-interface
Commission plan designer
Notifications
Integration
Dedicated support
---
Selecting the right sales commission tool can significantly impact the efficiency and success of your sales operations.
Although we have many tools in the market, the quest to find the perfect fit often narrows down to a choice between ElevateHQ and Oracle SPM.
So, how do you make the final decision?
Leave that to us.
In this article, we'll cover every unique feature that sets ElevateHQ as a potent alternative to Oracle SPM. We'll compare set-up time, commission plan designer, reports, notifications, and more.
Let's get started!
What is ElevateHQ?
ElevateHQ is a sales commission management solution that aims to simplify and optimize compensation plans for sales teams.
Its notable features include:
User-friendly commission plan designer, suitable for creating plans of varying complexities effortlessly.
A robust rule engine that enables the configuration of incentive triggers, rules, and payout schedules.
Effective team management capabilities allow customization of incentives, rules, and schedules according to different roles within the organization.
Functionality for managing exceptions and alterations to commission payouts, all while maintaining meticulous audit trails.
Seamless data integration with over 50 sales operations tools, including CRMs, invoicing systems, accounting software, and payroll systems.
What is Oracle SPM?
Oracle Sales Performance Management (SPM) offers advanced tools for various aspects of sales performance management, including incentive compensation, quota management, and territory management.
Here are some of its key features:
Create territories based on various factors, such as geography, business units, product lines, industries, named accounts, and more.
Plan and allocate quotas based on accurate sales intelligence, enhancing pipeline results.
Use the modeling tool to analyze compensation plan scenarios and motivate the sales team.
Resolve disputes efficiently using dispute management features.
Use the performance dashboard to track sales performance with verified data.
ElevateHQ Vs. Oracle SPM: A Quick Summary
The table below briefly compares some of the critical functionalities of ElevateHQ and Oracle SPM.

ElevateHQ vs. Oracle SPM: A Detailed Face-Off
Let's dive into the features, functionalities, and user experiences of ElevateHQ and Oracle SPM to help you make an informed choice.
1. Setup time
Efficient setup processes are essential for a smooth transition to a new tool.
While both ElevateHQ and Oracle SPM understand the importance of this phase, let's explore how their setup procedures differ:

2. User-interface
The user interface serves as a gateway to accessing vital information effortlessly.
But which tool excels in providing an intuitive user experience? Let's find out.

3. Commission plan designer
Flexibility and user-friendliness in commission plan design are pivotal.
Both ElevateHQ and Oracle SPM equip businesses with the tools to:
Build their plans.
Tailor them according to their needs.
Manage commission plans.
Let's delve into their respective approaches to commission plan design and what sets them apart.

4. Notifications
Effective notification systems ensure that essential information reaches the right people at the right time.
Let's explore how these platforms handle notifications:

5. Tool integrations
Discover the extensive list of tools that can seamlessly integrate with both ElevateHQ and Oracle SPM:

Check out the complete list of ElevateHQ integrations here.
6. Dedicated support
Dedicated support ensures customers have a reliable and knowledgeable point of contact within the company.

7. Commission simulation
Commission simulation is a valuable tool that enables businesses to predict and model various commission scenarios before implementing changes.
Here's how these platforms approach commission simulation to assist businesses in making well-informed decisions.

Key Takeaways
ElevateHQ and Oracle SPM both serve as robust sales compensation management systems, each with its own strengths.
However, ElevateHQ distinguishes itself by offering several advantages over Oracle SPM, showcasing its prowess in key areas:
Rapid Implementation: With a streamlined process, ElevateHQ can be up and running in just 2-4 weeks, ensuring a swift transition.
Adaptability to complex plans: Excels in handling intricate commission structures, accommodating a wide range of complex plans.
Intuitive user interface: ElevateHQ provides an intuitive user interface, ensuring easy navigation and accessibility for all users.
Customizable notifications: Boasts a flexible notification system, allowing users to tailor alerts according to their preferences.
Responsive support: ElevateHQ goes the extra mile with dedicated account managers who can implement changes within 24 - 72 hours, all without incurring additional costs.
Customizable notifications: ElevateHQ features a flexible notification system, allowing users to personalize alerts to suit their preferences.
These attributes collectively position ElevateHQ as a powerful solution for businesses seeking an efficient, adaptable, and user-centered sales compensation management system.
Book a demo today to experience it yourself!