ElevateHQ: An Excellent Alternative to Performio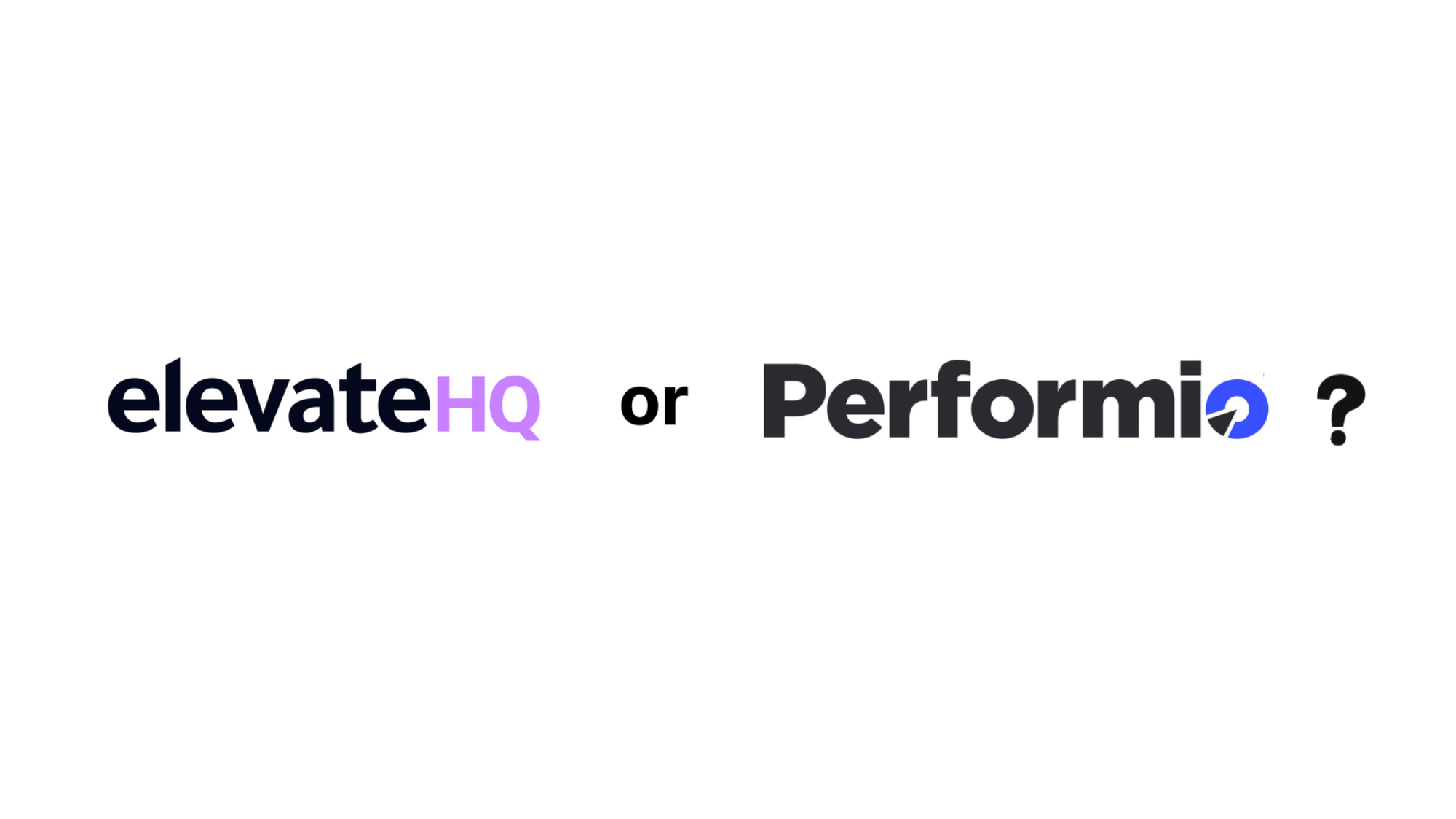 Executive Summary: This article compares ElevateHQ and Performio, two prominent players in the sales compensation management arena.
It evaluates critical aspects, including:
Setup time.
Commission plan designer.
Reports.
Commission simulation.
Notifications.
Dedicated support.
---
Selecting the right sales commission tool can significantly impact the efficiency and success of your sales operations.
Although we have many tools in the market, the quest to find the perfect fit often narrows down to a choice between ElevateHQ and Performio.
So, how do you make the final decision?
Leave that to us.
In this article, we'll cover every unique feature that sets ElevateHQ as a potent alternative to Performio. We'll compare set-up time, commission plan designer, reports, notifications, and more.
Let's get started!
What is ElevateHQ?
ElevateHQ is a comprehensive sales commission management platform designed to simplify and streamline sales compensation plans.
Its key features include:
Easy-to-use designer: From simple to complex, create any commission plan with the intuitive commission plan designer effortlessly.
Powerful rule engine: The advanced rule engine helps set up incentive triggers, rules, payout schedules, etc.
Team management: Manage your sales teams effectively and customize incentives, rules, and schedules to different organizational roles.
Overrides and audit trails: Handle exceptions and changes to commission payouts while maintaining a detailed audit trail.
Seamless data connections: The platform integrates with 50+ sales operations tools such as CRMs, invoicing, accounting, and payroll systems.
What is Performio?
Performio is an enterprise-grade incentive compensation management software that automates and simplifies calculating and managing sales commissions.
Some of its key features include:
Commission management: Calculate sales commissions by automating the process and eliminating the need for manual spreadsheet calculations.
Sales performance management: Performance dashboards and analytics to track sales performance, commission earnings, and other key metrics.
Incentive compensation: Incentive plan simulations to model different commission structures and scenarios to optimize incentive plans.
Tool integrations: Easily bring in the data you need and export the data through tool integrations.
Reporting: Offers reports like leaderboards, quota attainment, and total commission cost per sale.
ElevateHQ Vs. Performio: A Quick Summary
The table below briefly compares some of the critical functionalities of ElevateHQ and Performio.
ElevateHQ vs. Performio: A Detailed Face-Off
Let's dive into the features, functionalities, and user experiences of ElevateHQ and Performio to help you make an informed choice.
1. Setup time
A smooth setup saves time, minimizes disruptions, and ensures a seamless transition into a new tool.
While both ElevateHQ and Performio recognize the significance of this phase, here's how their setup time differs:

2. Commission plan designer
Having a flexible and intuitive commission plan designer can be a game-changer.
Both ElevateHQ and Performio offer tools that empower businesses to:
Design.
Customize.
Manage commission plans.
Let's dive into how these platforms approach commission plan design and what sets them apart.

3. Reports
Let's delve into how these platforms approach reporting and analytics and how they equip users to derive actionable insights: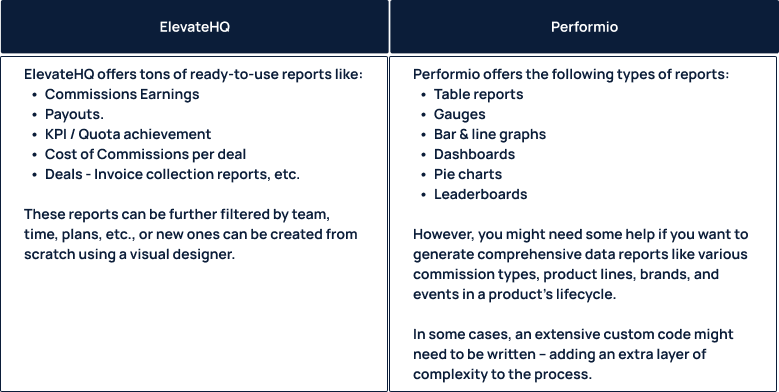 4. Commission simulation
Commission simulation is a valuable tool that allows businesses to forecast and model different commission scenarios before implementing changes.
This capability helps organizations understand the potential impact of new commission structures, align sales strategies, and set performance goals.
Here's how these platforms approach commission simulation and empower businesses to make informed decisions.

5. Notifications
Let's dive into the notification systems of these platforms and understand how they ensure that crucial information reaches the right people at the right time.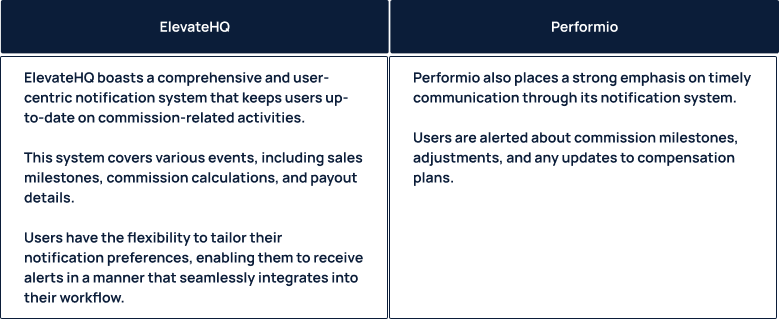 6. Dedicated support
Dedicated support ensures customers have a reliable and knowledgeable point of contact within the company.

Key Takeaways
ElevateHQ and Performio stand out as robust sales compensation management systems.
However, ElevateHQ presents distinct advantages over Performio, showcasing its strengths in several key areas.
Specifically, ElevateHQ offers the following benefits:
Rapid Implementation: With a streamlined process, ElevateHQ can be up and running in just 2-4 weeks, ensuring a swift transition.
Adaptability to complex plans: Excels in handling intricate commission structures, accommodating a wide range of complex plans.
Ready-to-use reports: Provides a suite of readily available reports, including commission, payouts, and leaderboards. Additionally, users can customize these reports to fit their unique needs.
Customizable notifications: Boasts a flexible notification system, allowing users to tailor alerts according to their preferences.
Responsive support: ElevateHQ goes the extra mile with dedicated account managers who can implement changes within 24 - 72 hours, all without incurring additional costs.
These attributes collectively position ElevateHQ as a powerful solution for businesses seeking an efficient, adaptable, and user-centered sales compensation management system.
Book a demo today to experience it yourself!