Compensation Management: Benefits, Objectives & Tools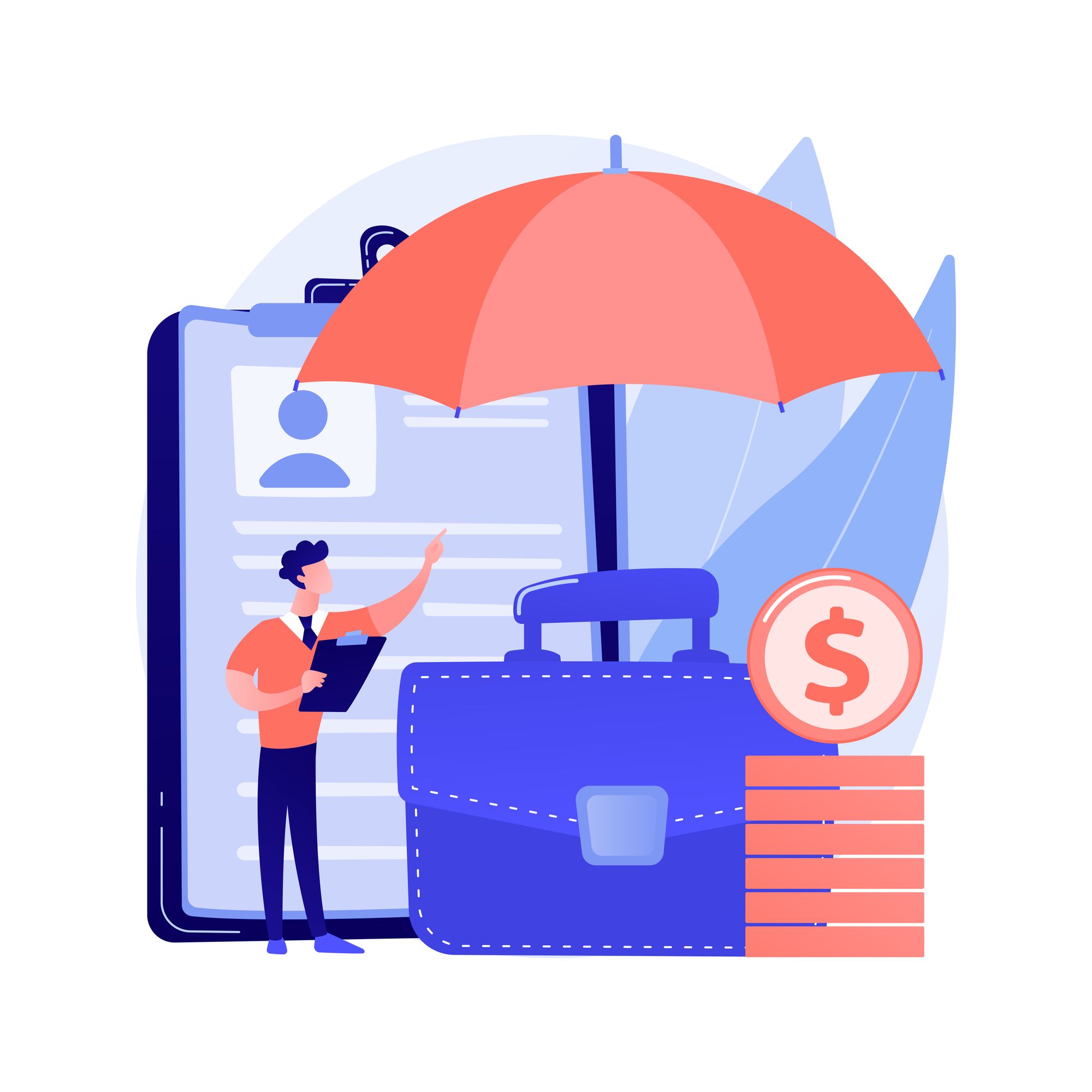 Compensation management involves cost control, pay fairness, legal compliance, and more. Moreover, compensation management software helps automate and streamline processes and provides data and insights to improve compensation strategy.
---
Compensation management is essential for companies as it directly influences employee happiness and the capacity to recruit and retain talent.
And according to this Glassdoor survey, 67% of job searchers stated pay and compensation were among their top factors in choosing where to work.
In this blog, I'll cover what compensation management is, its benefits, along with main objectives. I'll also highlight the key features, pricing, and customer review of four excellent tools to manage your compensation plans.
What is Compensation Management?
Compensation management is the process of establishing, executing, and determining employee pay levels, perks, and incentives.
It seeks to recruit, retain, and inspire salespeople by offering fair and competitive pay packages. Tying compensation and incentives to individual and organizational success also assists firms in aligning employee behavior and performance with company objectives.
Here are a few benefits of compensation management:
Increased performance and productivity as good pay management help firms recruit and retain people and boost employee motivation and engagement.
Aligning remuneration with business objectives can assist firms in meeting their goals and improving overall company success.
It helps comply with the local and national government's compensation and benefits norms, allowing you to maintain a good reputation for following the local state. It also enables you to get future loan approvals etc.
Ability to recruit and retain skilled people, enhance motivation and engagement, and accomplish corporate objectives using effective pay management strategies.
On the other hand, poor pay management procedures can result in excessive staff turnover, low morale, and lower productivity.
That's why companies should have fair and competitive remuneration packages based on market research and connected with corporate objectives.
8 Main Objectives of Compensation Management
Here are the eight main objectives of compensation management:
1. Attracting the right talent
The salary package is critical in drawing skilled personnel to the business.
This guarantees that the business gets to choose from a bigger pool of candidates and also helps develop a favorable image for the firm in the employment market.
So how do you do that?
You should examine elements that attract outstanding personnel to offer a good wage and benefits package.
This includes providing:
Professional development and progress possibilities.
A favorable work environment.
A decent work-life balance, and more.
2. Cost Control
Compensation management helps control labor expenses by ensuring that remuneration is based on market norms and that employees are compensated based on their abilities and experience.
This may entail performing frequent market surveys and revising remuneration packages as needed.
Cost control measures help guarantee that the company is not overpaying for labor.
3. Ensuring pay fairness
While cost control is necessary, you also need to ensure that employees are fairly paid for their efforts.
This ensures that there' no discrimination based on gender, color, or other personal traits. Doing so fosters a healthy work atmosphere and decreases the likelihood of legal complications.
You should also guarantee that its remuneration rules and procedures are open and non-discriminatory. That's why you need to evaluate your pay processes and frequently resolve discrepancies.
4. Legal compliance
Compliance with labor rules and regulations is vital for the company. And compensation management assures compliance with labor laws and regulations governing compensation and benefits.
This helps to avoid legal complications and protects the organization from any litigation.
It also helps ensure adherence to minimum wage rules, overtime restrictions, and other labor requirements concerning compensation and benefits.
5. Motivating sales employees
Pay management may inspire employees by giving incentives, bonuses, and other benefits for outstanding performance. This can boost employee motivation, leading to higher productivity and better company results.
Additionally, you should explore other methods of motivating personnel like:
Offering chances for employee engagement.
Participation in decision-making.
Recognition programs.
A good work atmosphere that fosters cooperation and collaboration.
6. Enhancing productivity
You can use compensation management to increase productivity by tying sales compensation to performance and providing incentives for meeting organizational objectives.
This can assist in aligning employee behavior with business goals and boost productivity. You can also offer training and development programs to hone employee skills and knowledge.
Moreover, you should ensure that your sales team has access to the resources and technology needed to do their tasks efficiently.
7. Improving job satisfaction
Pay management offers benefits like health insurance, retirement programs, and other perks contributing to employee well-being. This can boost staff morale, leading to higher productivity and better business results.
You can also take measures to create a good work environment that appreciates employee feedback and fosters a work-life balance.
8. Retaining talent
Retaining salespeople is just as crucial as recruiting them.
This saves businesses time and money on recruiting and training expenditures.
To keep workers, the organization should make them feel valued and respected. This involves offering frequent feedback, acknowledgment, and opportunity for progress.
The firm should also guarantee that sales employees are adequately rewarded and that their pay packages are evaluated and altered regularly.
What is Compensation Management Software?
Compensation management software is a form of human resources software that assists businesses in designing, implementing, and managing their sales compensation plans. It automates and streamlines operations such as data gathering, analysis, and reporting in compensation management.
Here are some of the important aspects of compensation management software:
Salary benchmarking: Compare your pay to industry norms and rivals to provide competitive compensation packages.
Performance-based compensation: Tie employee compensation to performance, which may help inspire staff and enhance productivity.
Compensation planning: Assists firms in planning and budgeting for employee compensation, which includes basic pay, bonuses, and incentives.
Analytics and reporting: Offers real-time data and analytics on compensation-related variables such as pay equity and attrition rates to assist firms in making educated compensation program decisions.
Compliance management ensures adherence to labor rules and regulations governing remuneration and benefits.
Let's look at the following compensation management software, its key features, and ratings to make an effective decision while choosing one.
1. ElevateHQ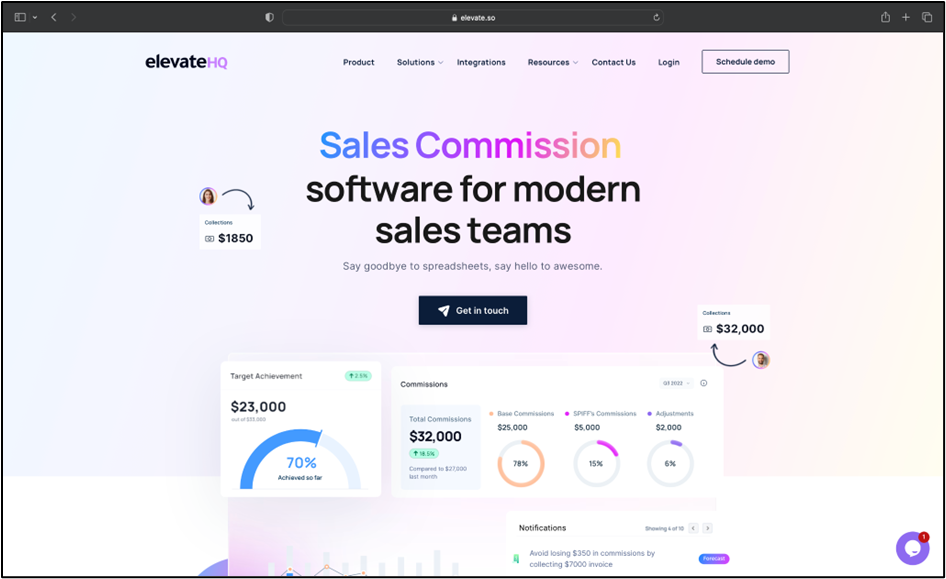 ElevateHQ is a sales commission software for modern teams that offers solutions like sales ops, finance, and accounting.
Key Features
Offers sales incentive designer for automatic compensation calculations.
Use the compensation manager to set up audit trails, approval flows, override rules, etc.
Track and improve your commission plans with in-depth insights and reports.
Individual and team dashboards for real-time visibility into earnings.
Pricing
Pricing starts at $25/user per month.
Customer Ratings
2. Paycom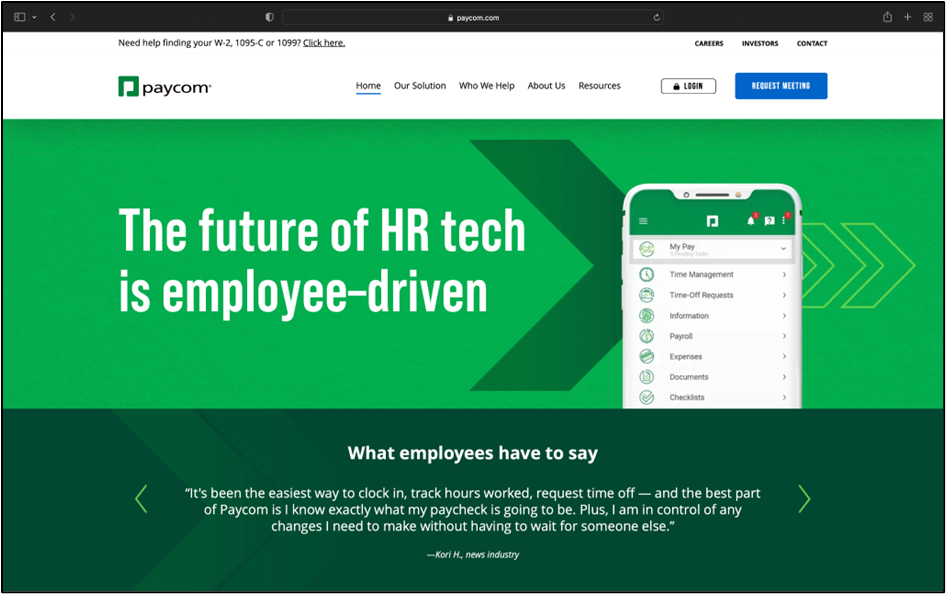 Paycom is a cloud-based HR and payroll automation software that helps businesses manage their salesforce with time and attendance management, application tracking, reporting, and other tools.
Key Features
Track employee time and attendance using clock-in and clock-out capabilities and manages overtime.
Offers HR functions with onboarding, administrative tasks, and employee self-service.
Streamlines recruiting activities through applicant tracking, job posting, and resume management.
Analyze HR and payroll data using reporting and analytics tools.
Pricing
Contact Paycom's sales team for a customized quote.
Customer Ratings
G2: 4.2/5 (1000+ reviews)
Capterra: 4.4/5 (750+ reviews)
3. UKG Pro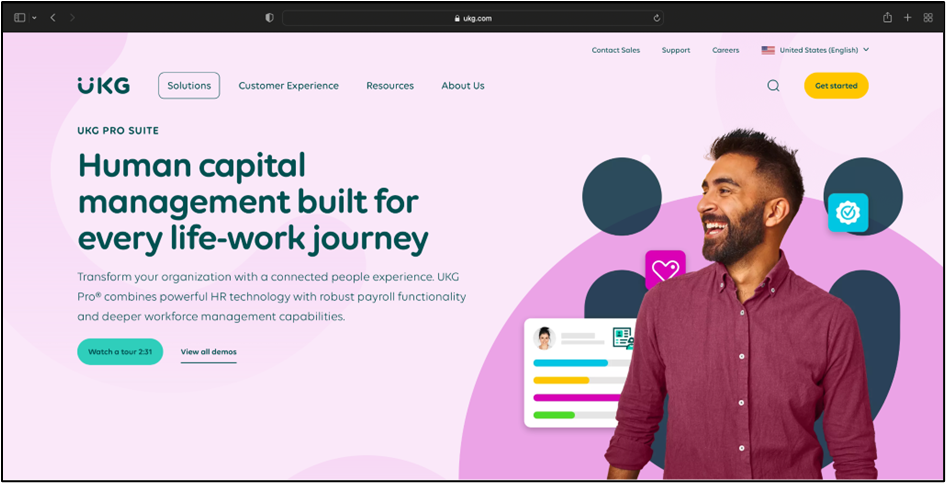 UKG Pro Suite, formerly UltiPro, is a cloud-based human capital management (HCM) software that helps organizations streamline their HR and payroll processes.
Key Features
Track employee time and attendance with clock-in and clock-out features, leave management, scheduling, and shift swapping.
Manage HR functions like employee onboarding, performance management, and employee engagement.
Processes payroll with tax management, compliance monitoring, and direct deposit functionalities.
Implement employee benefits like open enrollment management, eligibility tracking, and reporting.
Pricing
Get in touch with their sales team for price quotes.
Customer Ratings
G2: 4.2/5 (1400+ ratings)
Capterra: 4.2/5 (400+ ratings)
4. Salary.com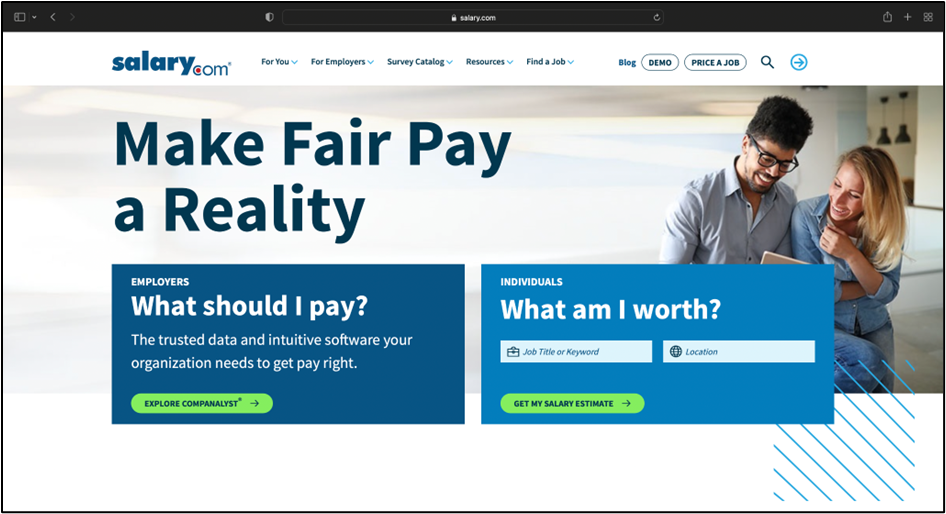 Salary.com is a cloud-based solution that manages employee pay plans and streamlines compensation processes – helping companies make informed decisions.
Customers like Salary.com because of its extensive pay data, analytical tools, customization possibilities, and customer service.
Key Features
Customized salary reports and analysis for specific job roles and industries.
Creates competitor analysis to benchmark salaries against industry standards.
Evaluation tools to determine the appropriate salary for particula job roles.
Offers compensation planning tools to design and implement salary structures.
Pricing
Contact their sales team to request a customized quote.
Customer Ratings
G2: 4.4/5 (450+ reviews)
Capterra: N/A
Wrap Up
Compensation management focuses on attracting the right sales talent, maintaining legal compliance, and enhancing productivity – while ensuring that employees are fairly rewarded for their efforts.
To streamline compensation planning and management, use specialized compensation management tools like Paycom or UKG Pro to analyze important data and get valuable insights.