Top 8 Types of Sales Jobs in 2023 (Responsibilities, Salary)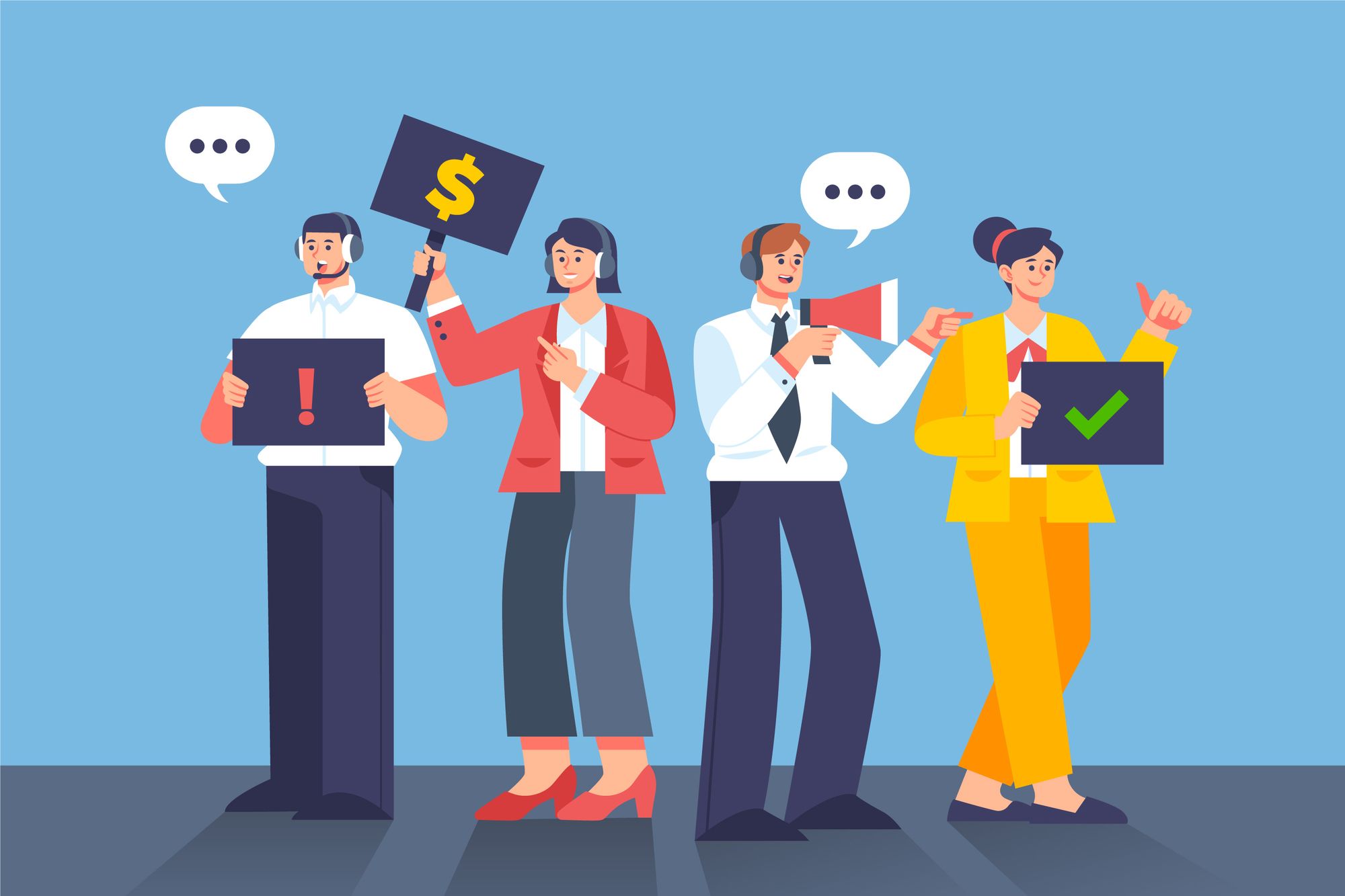 This blog overviews eight popular types of sales jobs, their roles, responsibilities, and salary details. It helps you understand the capabilities required for each position so that you can hire the right people for your sales teams.
---
Sales jobs offer a vast range of opportunities, from entry-level to senior roles.
However, not all sales jobs are the same.
While some roles can be completely customer-facing, others require more strategizing than on-ground sales.
Ultimately, each of these roles requires a different skill set, and it's crucial to know the responsibilities associated with every role to hire a great sales team.
In this blog, I'll take you through eight essential sales job roles, their key responsibilities, and their average salary. Along the way, you'll also find many tips to help you select the right person for the right job.
8 Common Types of Sales Jobs in 2023
Here's a curated list of sales jobs I've picked for you. Let's take a detailed look at each one of them:
1. Sales Development Representative
A Sales Development Representative (SDR) is a professional who identifies and qualifies potential customers for a sales team by conducting outreach and generating leads.
Excellent communication skills and organizational capabilities are essential for an SDR, apart from being able to work in a fast-paced, target-driven environment.
A. Key Responsibilities
Generating leads and recognizing potential clients for a company's products or services.
Performs crucial tasks like market research, prospecting via diverse channels, qualifying leads, and setting up appointments for the sales team.
Keeps the customer information in the company's database up-to-date.
B. Salary Details
The compensation package can vary based on location, industry, experience, and other factors.
In the US, the average yearly salary is around 50,000 USD, with the base salary going up to $65,000. In addition to the regular salary, most companies offer their SDRs commission, bonuses, and benefits like health insurance.
2. Inside Sales Representative
An inside sales rep uses remote methods like phone, chat, and email to qualify prospects, generate leads, and close deals without in-person interaction.
A. Key Responsibilities
Prospecting and lead generation, where they research and find out potential customers and contact them through various channels.
Assessing leads to determine if they're a good fit for the company's products and services.
Engage with the prospect and build their interest in the brand, hoping to close the deal.
B. Salary Details
Inside Sales Representatives receive a base salary plus bonuses or commissions based on their sales performance. Companies offer various rewards based on their budget.
The salary for this role in the US ranges from 34,000 USD to 67,000 USD per year, averaging 47,000 USD.
3. Outside Sales Representative
An outside sales rep is a traveling salesperson who personally meets with customers and prospects to promote and sell products or services for their company.
A. Key Responsibilities
Identifying and targeting potential customers, making cold calls, conducting meetings, and delivering presentations.
Build and maintain relationships with customers and leads, usually in a specific geographic area.
Stay well informed about the company's products and services and the market they operate in to respond to customers' questions.
Participate in trade shows and industry events, trying to network with potential customers and stay updated about the latest developments.
B. Salary Details
The average salary per year for outside sales representatives ranges from 34,000 USD to 85,000 USD, with an average salary of about $55,000.
However, this can vary significantly based on area and industry.
4. Account Executive
An account executive (AE) in sales in sales manages and nurtures relationships with customers, generates new business, and achieves sales targets within a designated territory.
Strong communication skills are a prerequisite for an account executive as their everyday role involves staying in touch with the customers and being the face of the brand. The impression created by them will be a vital factor in winning the customer's loyalty.
A. Key Responsibilities
Manages and expands relationships with existing clients and generates new business from prospects.
Understand customer requirements and help them achieve their goals through the company's offerings.
Create and execute plans to meet sales targets and maintain customer satisfaction levels.
B. Salary Details
The total compensation structure for an account executive varies a lot based on experience, with seasoned executives earning a lot more than freshers.
The average salary for this role in the US is about 60,000 USD ranging from 41,000 USD to 100,000 USD.
5. Customer Success Manager
A customer success manager ensures customers have a positive experience and help them achieve their desired outcomes. They provide guidance, support, and assistance throughout their interactions with the company.
A. Key Responsibilities
Establish and maintain a connection with the customers to ensure that they achieve their desired objectives.
Understand the customers' needs by going to the root cause of their requirements and develop guidance and support mechanisms that help them.
Find ways to increase customer satisfaction and loyalty by understanding why there is churn among customers and develop strategies to improve retention.
B. Salary Details
Depending upon factors like industry and area, the average yearly salary of a customer success manager in the US is about 75,000 USD, ranging from 50,000 USD to 115,000 USD.
6. Business Development Manager
A business development manager in sales proactively seeks out new clients and works on building relationships. They negotiate deals to grow revenue while analyzing market trends and competitor activity.
A. Key Responsibilities
Identifying new business opportunities to achieve revenue growth.
Researching and analyzing market trends and competitor activity apart.
Building relationships with new and existing clients.
Developing marketing campaigns and collaborating with other departments in the company to ensure customer satisfaction.
B. Salary Details
The yearly salary of a business development manager in the US ranges from 49,000 USD to 128,000 USD, apart from annual bonuses and commissions.
The average salary is about 80,000 USD per annum.
7. Vice President, Sales
A Vice President of Sales is a senior executive who leads a company's sales strategy, manages the sales team, and drives revenue growth through planning, forecasting, and execution.  
A. Key Responsibilities
Oversees sales forecasting and budgeting.
Implements sales training programs.
Coordinates with other departments and vice presidents to align the sales team's activities with the overall business goals.
Monitor customer behavior to identify growth opportunities.
B. Salary Details
Sales VPs are among the highest-paid executives in sales because of the experience and skill they bring to the table.
In the US, their salary ranges from 85,000 USD to 205,000 USD annually, with the average pay at about 150,000 USD annually.

8. Sales Manager
A sales manager's role is to lead and direct a team of sales reps to achieve sales targets and increase revenue for the company. They do this by training and motivating the sales reps and giving them targets to achieve.
Sales managers are an essential communication link between the senior management and sales reps and are tasked with implementing the plans made by the administration for the sales teams.
A. Key Responsibilities
Managing the everyday activities of the sales reps, constantly monitoring their performance.
Providing suggestions to reps about how their sales quotas can be met.
Several times, they're also in the field with sales reps, meeting and building relationships with potential customers.
B. Salary Details
A sales manager's salary range is extensive because it differs a lot based on the nature of the industry.
In the US, it ranges between 40,000 USD and 120,000 USD a year. The average salary is about $65,000 per year.
Check out this guide on how to create a sales manager compensation plan.
Wrapping up
Ultimately, a sales team is only as good as the people in it!
And now, you've looked at some essential sales roles, their everyday responsibilities, and the pay associated with every position.
This article should give you a good idea of the skills required for each role and will help you make the right hire.