Sales Performance Dashboards: Why They Matter & How To Set One Up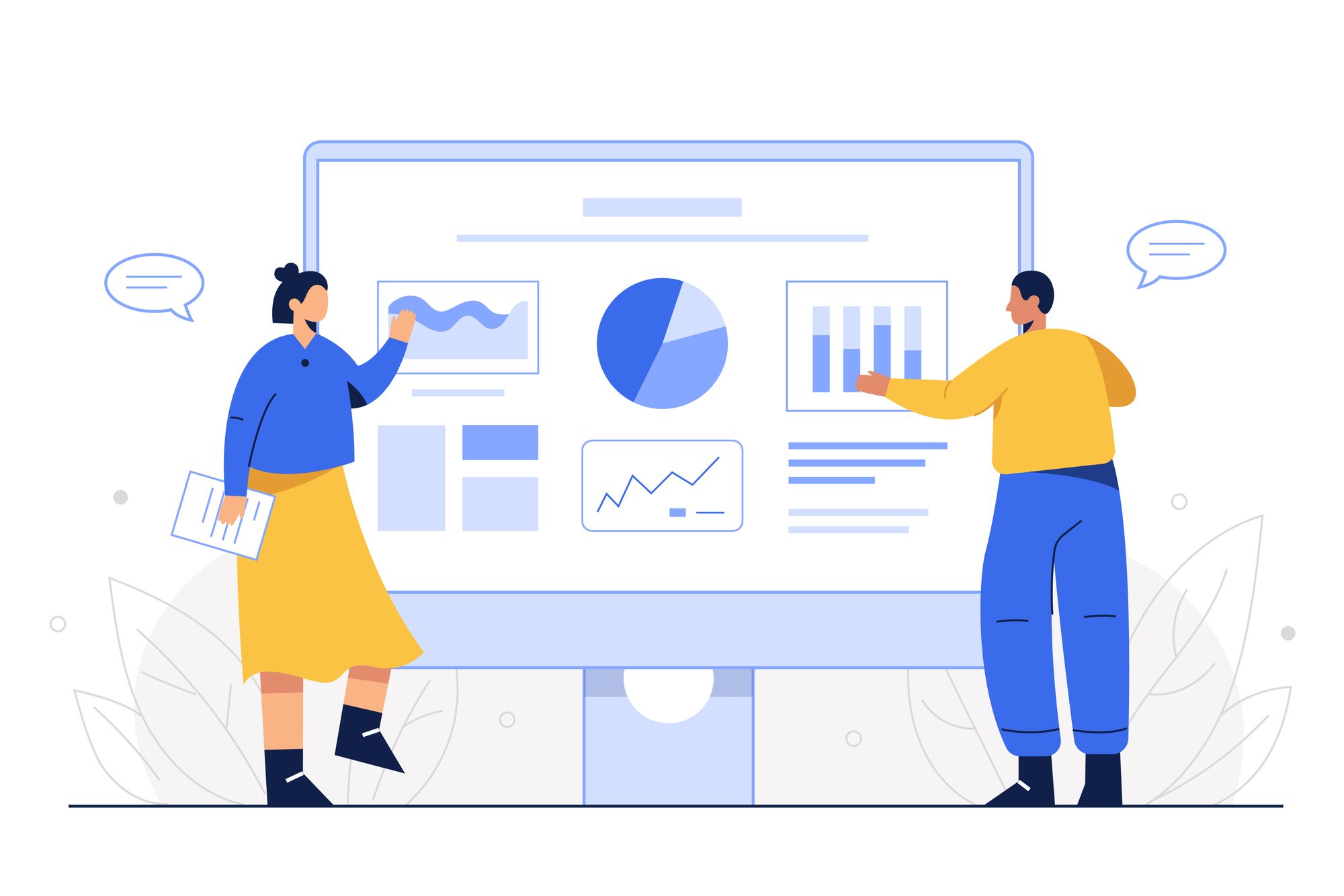 In this article, I'll cover the concept of sales performance dashboards and share some common examples. Next, I'll show you a three-step process to set up your sales dashboard. These include determining the purpose, picking the sales metrics you want to track, and choosing the right dashboard. Finally, we'll compare the features and prices of three well-known sales dashboard providers.
---
Data can be overwhelming if you don't have the right tools and processes to help make sense of it all.
When it comes to sales, the avenues for sourcing data are as numerous as trees in a forest. Deals won, revenue generated, opportunities lost, emails sent, calls made … the list is practically endless.
To efficiently run a sales team, you need a system that tracks key performance metrics in real-time and presents all that data in a visually engaging yet simple way.
In other words, you need a sales performance dashboard.
In this article, we'll cover some common types of sales performance dashboards, how to set one up yourself, and the top three sales performance dashboard providers.
What is a Sales Performance Dashboard?
A sales performance dashboard is a software tool that can be customized to track various sales KPIs (Key Performance Indicators) relevant to your business. The software then presents the collected data as pie charts, bar graphs, histograms, XY graphs, etc.
With a visual representation of all your critical sales data, you can formulate more innovative strategies, run smoother campaigns, and ensure your current sales activities are aligned with overarching business goals.
4 Common Types of Sales Performance Dashboards
While every sales team has its way of doing things, let's look at some standard sales dashboards that most companies use:
1. Sales Rep Dashboard
A must-have for modern sales reps. It allows them to keep track of their performances by showing key stats such as meetings scheduled, open opportunities, current pipeline value, deals won, etc. Depending on the sales cycle length, you can group stats by week, month, quarter, or year.
2. Sales Activities Dashboard
A handy dashboard for sales managers that provides a brief overview of reps' activities. Stats include calls made, emails sent, meetings scheduled, deals won, deals lost, etc. This dashboard enables managers to gauge team performance on a macro level and identify areas for improvement.
3. Regional Sales Dashboard
This dashboard is more suitable for higher-ups like VPs and Directors. It focuses on revenue coming in from each territory and the products responsible for that revenue. Higher-ups can use this information to plan new product launches, redirect sales efforts, and restructure entire teams if needed.
4. Sales Leaderboard
A dashboard that summarizes the main stats of top-performing reps (e.g., meetings done, deals won, renewals, revenue generated, etc.) This dashboard drives competition among reps while giving sales leaders and upper management a clearer picture of who's doing well and who's slacking.
How to Create a Sales Dashboard
Create your own sales dashboard following this simple three-step process:
1. Determine the purpose of the dashboard
Start by figuring out why you need a dashboard in the first place. Ask yourself questions like:
Are we looking to increase rep productivity by offering real-time insights into individual and team performances?
Do our sales managers need to be better equipped to analyze all the sales data generated by our CRM?
Are outdated systems and processes slowing down our sales processes and costing us money and workforce?
Is our current dashboard unable to handle the demands of our rapidly growing salesforce?
There could be several reasons why you might need a sales dashboard. Often, companies kill multiple birds with one stone when they adopt a dashboard that's the perfect fit for their sales team.
2. Pick the sales metrics you want to track
Once you've figured out the purpose — or purposes — for your sales dashboard, it's time to decide which metrics are ideally suited for that dashboard.
To be fair, this can be a bit tricky since different metrics offer different advantages and insights. But at the same time, you can't pick all of them for fear of a cluttered and overloaded dashboard.
Workaround?
Zero in on the ideal metrics by asking yourself questions like:
What metrics does management generally focus on during sales meetings?
Are there certain metrics we, as a company, value more than others?
Which metrics do our sales reps feel help them best in their work?
3. Set up your dashboard
Now that you know why you want a dashboard and the metrics you want to track, it's time to bring out the Lego bricks and build your digital castle.
First, you have to choose a sales dashboard provider. There are a million options, so you need to put in the effort and research. We've handpicked a few tools (mentioned in the next section) that you can start with if you want to save time.
Next, you have to integrate that dashboard with your existing CRM. In many cases, CRM providers also offer sales dashboards that pull data directly from the CRM. So if your current CRM provider offers a sales dashboard, that might be worth considering.
Lastly, you have to set up your dashboard to generate custom charts and reports based on the metrics you have set it to track. These could include line graphs, pie charts, scatter plots, histograms, etc.
Remember: Only through appropriate visualizations of the data you collect can you understand what's happening in your sales team on a macro and micro level.
Top 3 Sales Performance Dashboard Tools
Finally, let's look at the top 3 sales dashboard tools, including their main features, pricing, and user ratings:
1. ElevateHQ
ElevateHQ is a sales commission software suited for small to medium-sized businesses. It lets you automate any commission structure under the sun.
Key features
Tracks sales performances, monitors commission payouts, and syncs in real-time with most existing CRMs.
Maintains a log of each and every input, calculation, and payout — ensuring complete transparency at all times.
Lets you reconfigure team hierarchies and add/remove team members midway through a commission period.
Offers super customizable notifications that can be catered to sales teams of all sizes and spreads.
Pricing
Pricing starts at $25/user per month.
User rating
G2: 4.7/5 (150+ reviews)
Capterra: 4.9/5 (100+ reviews)
2. HubSpot Sales Hub
HubSpot Sales Hub helps teams close more deals, deepen relationships, and manage their pipeline more effectively.
Key features
Built on the HubSpot CRM platform, enabling customer data, tools, and teams to work as one.
Includes sales engagement tools, configure-price-quote (CPQ) functionality, and robust sales analytics for growing teams.
Can seamlessly integrate with a lot of tools.
Provides personalized emails and follow-up tasks to ensure you're always on top of things.
Pricing
Pricing starts at $500 per month for up to 5 users.
User rating
G2: 4.4/5 (10,000+ reviews)
Capterra: 4.5/5 (400+ reviews)
3. Zoho Analytics
Zoho Analytics turns raw data into insightful reports and dashboards, helping businesses track key business metrics, observe trends, and identify outliers.
Key features
Offers a wide range of visualization options like charts, widgets, pivots, summaries, and tabular views.
Leverages technologies like artificial intelligence (AI), machine learning (ML), and more.
Allows you to set up auto-generated reports on any data you want.
Connects with 50+ popular business apps and automatically unifies data from these apps in hourly intervals.
Pricing
Pricing starts at $12 per month for up to 2 users.
User rating
G2: 4.2/5 (200+ reviews)
Capterra: 4.4/5 (250+ reviews)
Wrapping Up
Sales performance dashboards are an integral component of successful sales teams. They make reps more productive, managers better leaders, and managers better decision-makers.
It's not about whether you need one, but it is about the best fit for you.
I hope this article has helped you make that decision. Or, at the very least, nudged you in the right direction.