4 Key Sales Leaderboard Benefits (+ Helpful Tools)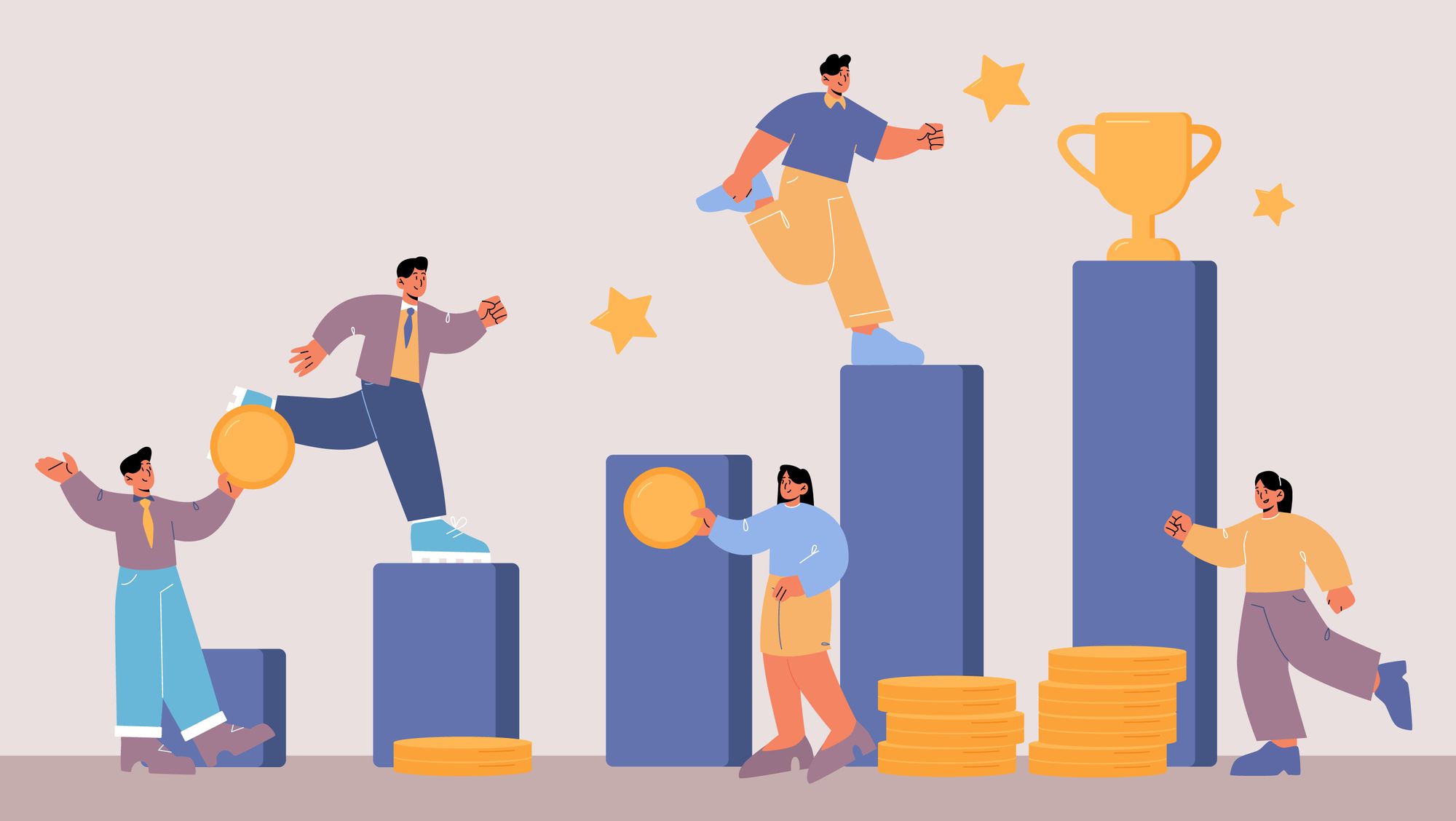 A sales leaderboard, if implemented strategically, can boost agent performance and productivity. Read on to understand what it is, how it can benefit your business, and which tools to use to elevate your sales game.
---
According to this research, a sales dashboard can be used as a tool to:
Change the business culture.
Understand the key risk indicators and key performance indicators.
Drive decisions and undertake actions to mitigate risks.
Improve the performance of the enterprise.
If you want a data visualization tool that helps you to monitor and track individual and team performance, analyze sales data, and make data-driven decisions, a sales dashboard is worth investing in.
Let's walk you through everything you need to know about using a sales leaderboard, from what it is to its benefits and tools.
So, What is a Sales Leaderboard Exactly?
A sales leaderboard is a type of sales technology that visually represents your most recent performance metrics (think: sales-to-date, lead conversion rate, sales growth, etc.) in a concise manner.
A comprehensive sales dashboard consists of the following key elements:
Displays sales performance metrics such as total revenue, sales by product or service, sales by region, conversion rates, and other metrics to help measure the sales team's performance.

Offers real-time data updates as sales data changes quickly.

Offers interactive data visualization and should be easy to navigate.

Plus, it must allow sales managers to:

* Interact with the data to gain insights and answer questions.

* Filter and drill down into the data to get more detailed, granular information.


Allows customizations so that users can create personalized views and focus on metrics and KPIs that matter the most.

Provides mobile accessibility so that sales teams can check performance data on the go.
Includes forecasting tools that help teams predict future sales performance based on historical data.
Supports seamless integration with other tools, such as CRM systems, marketing automation software, and other sales-related tools, to provide a comprehensive view of the sales performance
A Sales Leaderboard In Action:
Let's say you have a sales team of 10 members.
Step 1: You set up a leaderboard to track each salesperson's progress towards their sales target for the month.
Step 2: You set up the leaderboard screen, which is displayed in the sales area and updated in real-time.
Step 3: As the month progresses, each salesperson's progress is updated on the leaderboard. The team can see who is leading and who is falling behind, motivating them to work harder and improve their position on the leaderboard.
Step 4: At the end of the month, the sales leaderboard can be used to celebrate the top-performing salespeople and set new targets for the next month.
All in all, a sales leaderboard tracks and displays the performance of salespeople in real-time. This motivates them to achieve better results and celebrate top-performing salespeople.
4 Key Benefits of Using a Sales Leaderboard
Now, let's look at some of the advantages of using a sales leaderboard:
1. Boosts performance
A sales leaderboard creates healthy competition among sales reps, motivating them to work harder and achieve better results.
Moreover, when reps see their progress and how they stack up against their colleagues, they tend to put in extra effort to climb up the leaderboard.
Here's our ultimate guide on sales performance management.
2. Offers easy-to-track results
A sales leaderboard also provides an easy way to track individual and team performance. It allows managers to see who's performing well and who may need additional coaching or support.
They can also use the leaderboard to identify top performers and reward them for their hard work.
3. Motivates sales reps
The recognition that comes from being at the top of a sales leaderboard can be a powerful motivator for sales reps. It can boost their confidence and make them feel valued and appreciated.
Additionally, even being on the leaderboard (not in the top position) can provide a sense of accomplishment and pride.
4. Reduces stress
Sales can be a stressful job, especially when reps are struggling to meet their never-ending targets.
A sales leaderboard can help:
Reduce stress by providing a clear picture of where reps stand and what they need to do to improve.
Agents focus on their goals and feel more in control of their work.
Agents to see the progress of others on the leaderboard and help them realize that they're not alone in their struggles, allowing them to work together as a team and improve overall performance
Top 4 Sales Leaderboard Tools
Here's a list of the top four sales leaderboard software with their key features, pricing, and user ratings:
1. Ambition: Track + Analyze Sales Data in Real-Time

Key features
Create customizable leaderboards that rank your sales team based on total sales, deals closed, calls made, and other metrics.
Offers a range of gamification features that helps motivate your sales team and drive better performance.
Provides detailed performance metrics for each member of your sales team, including activity volume, win rates, and average deal size.
Shows real-time sales team progress, allowing managers to make quick adjustments to the sales strategy as needed.
Offers coaching and feedback tools that help you identify areas where your sales team needs improvement.

Pricing
Contact support for pricing details.
User ratings
G2: 4.6/5 (500+ reviews)
Capterra: 4.6/5 (20+ reviews)
2. LevelEleven: Improve Performance + Increase Revenue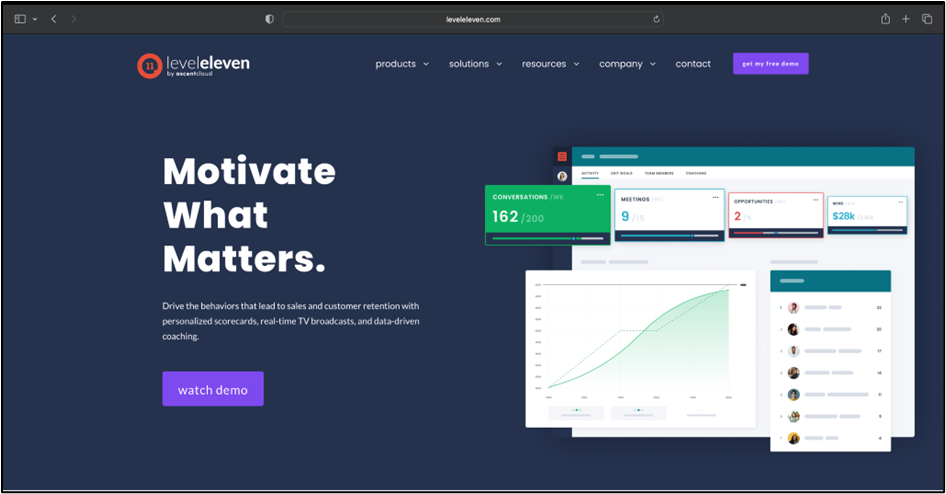 Key features
Displays sales data leaderboards and performance metrics in real-time, allowing team members to see where they stand in relation to their colleagues.
Use gamification to motivate sales teams to perform better by awarding top performers points, badges, and prizes.
Use the platform to coach team members by reviewing performance metrics and providing feedback.
Customizable dashboards for real-time visibility into sales performance and allow managers to track progress toward goals.
Integrates with popular CRMs like Salesforce, HubSpot, and Microsoft Dynamics, making it easy to sync sales data and performance metrics.

Pricing
Contact support for pricing details.
User ratings
G2: 4.4/5 (270+ reviews)
Capterra: N/A
3. Spinify: Motivate Sales Teams + Access Real-Time Sales Data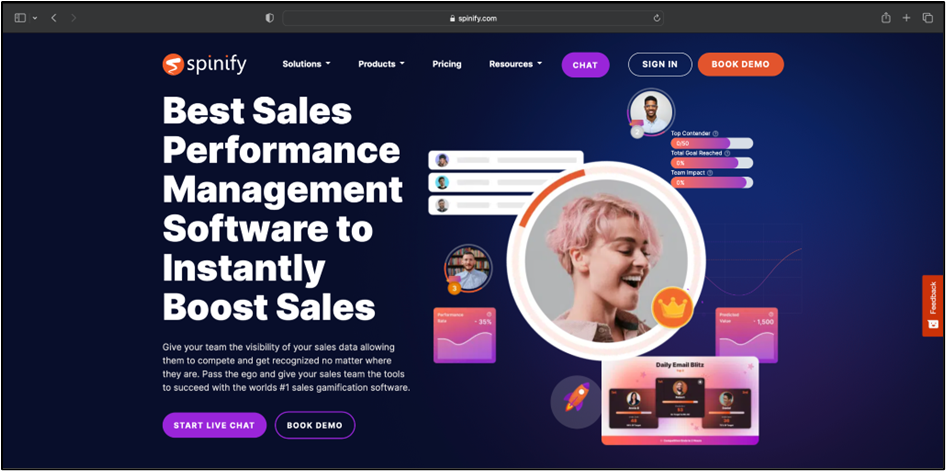 Key features
Create customizable leaderboards that display sales data in real-time.
Offers a range of gamification features, such as badges, points, and rewards, which can be used to incentivize your sales team and create a competitive environment.
Integrates with a range of CRM platforms, including Salesforce, HubSpot, and Zoho CRM, making it easy to pull sales data from your existing systems.
Display your leaderboards on a TV screen and create a dynamic and engaging environment that can motivate your entire team.
Access detailed performance analytics to track key metrics such as sales performance, win rates, and deal velocity.

Pricing
Contact support to get a custom quote.
User ratings
G2: 4.5/5 (500+ reviews)
Capterra: 4.5/5 (200+ reviews)
4. Hoopla: Motivate + Engage Agents with Real-Time Performance Tracking and Recognition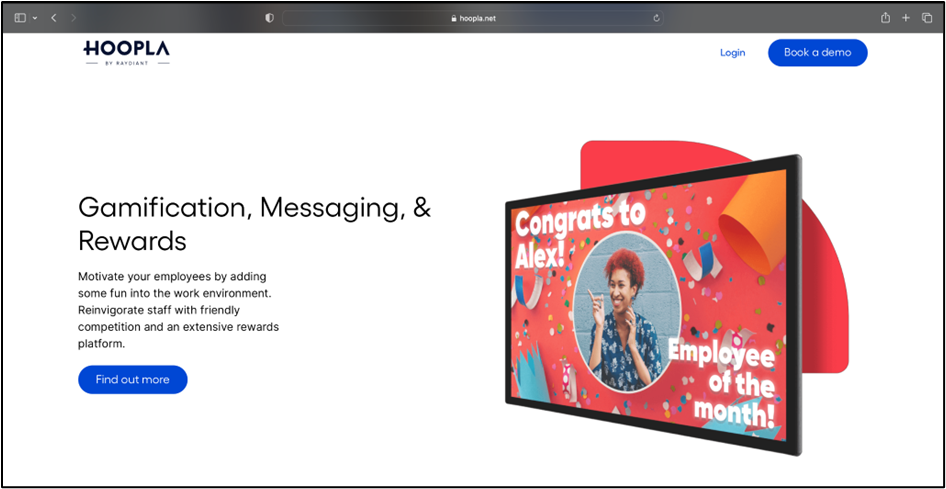 Key features
Provides real-time leaderboards that display the performance metrics of each sales team member, which can be customized based on individual or team goals.
Uses gamification techniques to create a competitive and engaging environment that motivates sales team members to improve their performance.
Allows users to customize the platform to their specific needs, including branding, dashboard layout, and notification preferences.
Integrates with various sales and marketing software tools, including Salesforce, HubSpot, Marketo, and more.
Allows managers to recognize and reward top performers with badges, trophies, and other incentives.

Pricing
Contact support to get a custom quote.
User ratings
G2: N/A
Capterra: 4.6/5 (25+ reviews)
In Conclusion
As per Gartner, nearly 90% of sellers feel burned out from work. The need to motivate sales reps is now more important than ever.
Invest in a robust sales leaderboard tool to track (and measure) team performance and motivate people to be the best version of their sales selves.
Sign Up for ElevateHQ and gamify your sales processes today!